Chanesd Srisukho, Doctor Gla, is the eldest son of Chanwalee and Pattanath Srisukho, an Obstetrician/Gynecologist and a surgeon. Since childhood, he has learned medical knowledge and traditions with a strong sense of ethics and integrity and a deep understanding of the Thai public health system. The Srisukho family has lived in Phichit province, Thailand. They have worked at a public hospital for more than 30 years and opened their small private hospital, Srisukho Hospital. They aim to provide people with low-cost but highly effective medical services. Chanesd has active participation in the reformation and development of Thailand's public health systems, with wide-spreading government and private institutions networks. Moreover, he is the head of IT & management of his family's business.
He was the co-founder of the Association of Thai Aesthetic Physicians (ATAP), worked in many provinces, and at the newly established 2021 MALI dermatology Clinic in Bangkok, at the central business district Silom 3 (Phiphat intersection).
CHANESD: Education & Work Profile (Medicine)
CHANESD: Education & Work Profile (Medicine)
Chanesd Srisukho, M.D., Msc (Dermatology) : a Thai dermatologist and businessman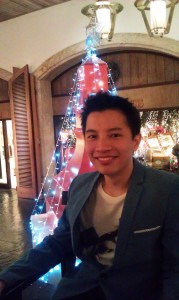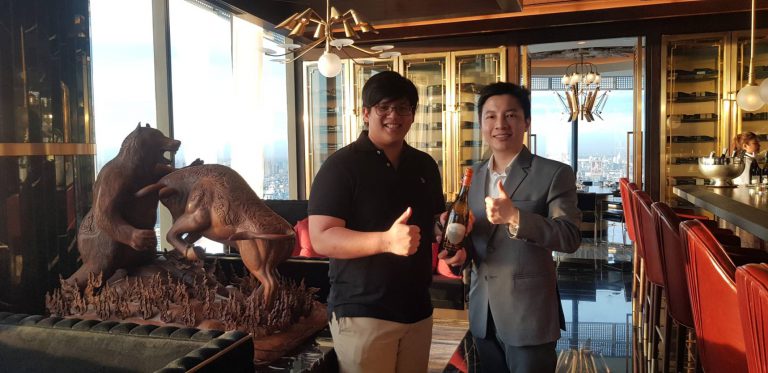 Srisukho C. with Mr. Ukrit Vanagosoom, the vice-president of KWM:TB (K.W.Metal. Corporation) which is his family business.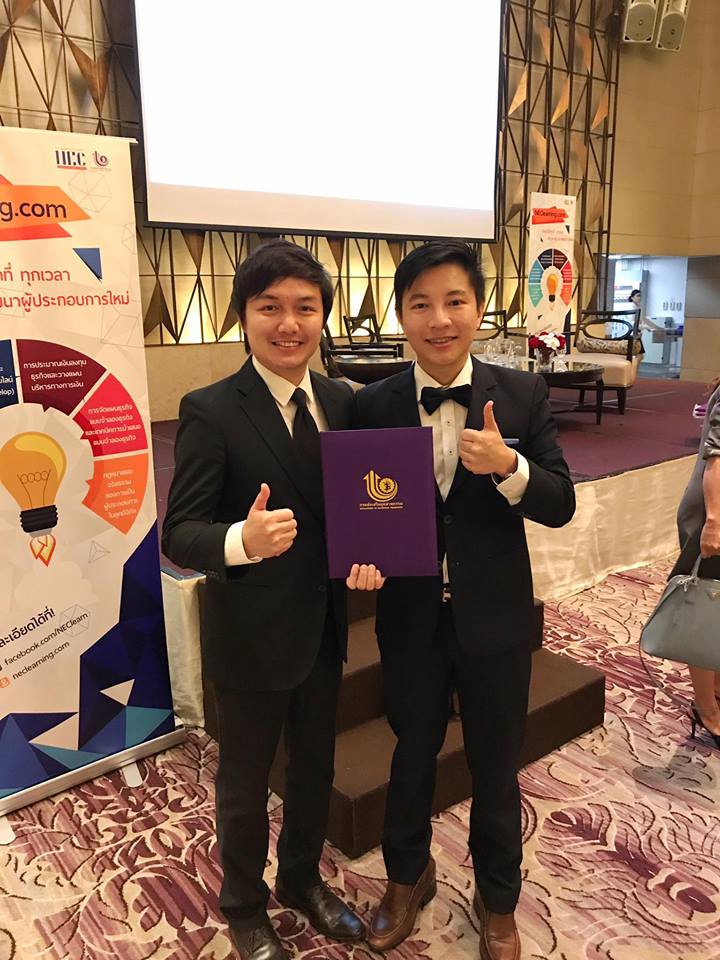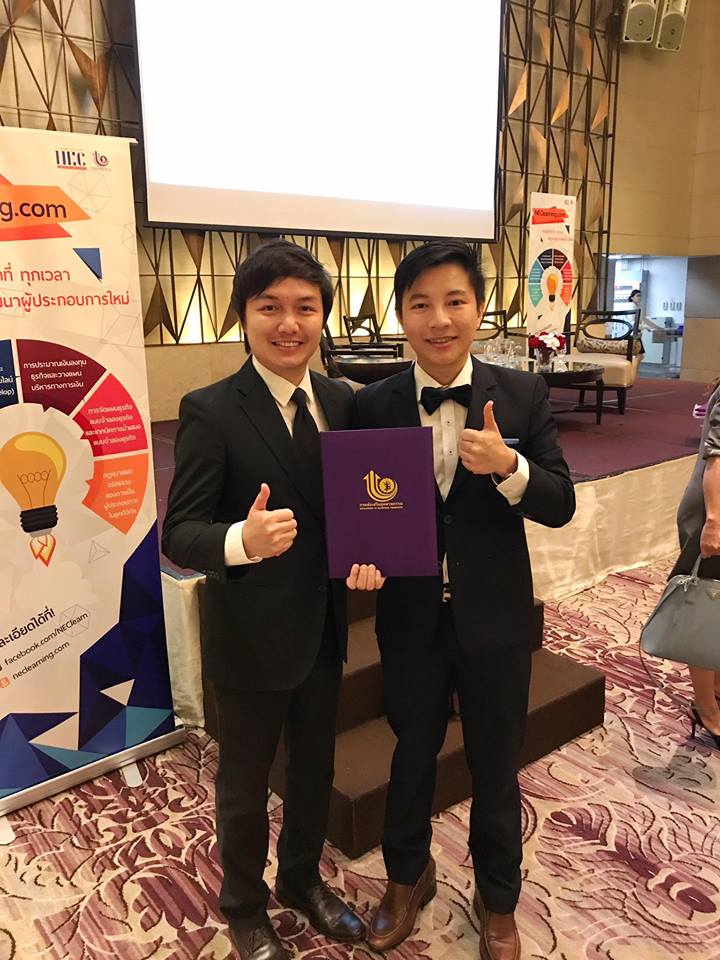 with Mr.Chalermruth Narkvichien, CEO of Netdesign and GMO group, Thailand. Mr.Chalermruth is long-time Chanesd's lecturer.
Lecturer: update in acne scar treatment @ MFLU, Chiang Rai on May 1, 2016
Education
2016 Mini Master of Real Estate (Mini MRE) at Thammasart Business School #23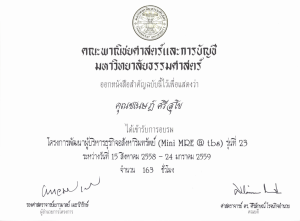 2015 Silpakorn University Real Estate development Program (SURE) #4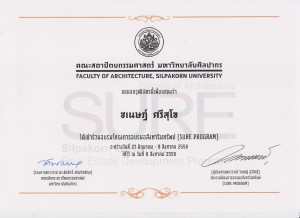 Accounting (Short courses) at DNSMTAC school
Finance for Non-financial Executive course at TBS (Thammasart Business School) #18
2012 – 2014 M.Sc. in Dermatology, / Mae Fah Luang University Hospital (GPAX = 3.85)
Master's thesis: A COMPARATIVE STUDY OF FRACTIONAL RADIOFREQUENCY MICRONEEDLE AND SUBLATIVE BIPOLAR RADIOFREQUENCY TREATMENT IN ACNE SCARS
late 2013 completed 2 week Clinical Training Program in the Department of Dermatology and Allergology, Juntendo University hospital, Tokyo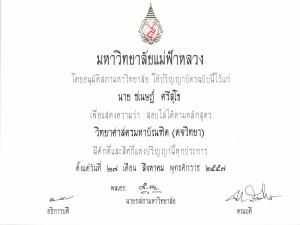 2011 Doctor of Medicine, / College of Medicine, DMS-RSU (GPAX = 3.49)
Work and Experience
2014 – present: full time general practitioner and dermatologist at Srisukho Hospital (SK hospital), Phichit province (www.srisukho.com)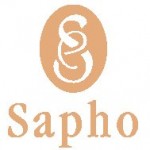 2012 anti-aging & aesthetic specialist at Asia Herb Clinic (formerly Sapho clinic), Bangkok
2011 General Practitioner in 1st-year internship program, / Phichit hospital of Phichit province and Khanuworraluksaburee hospital of Kampangpetch province , Thailand
2008-2010 Medical student at Rajavithi hospital, Srimahaphot hospital and Kabinburi hospital
Certification in
attendance of Recent Advances in Aesthetic Dermatology course
Combining BTx and Filler (Juvederm) for 3D Facial Approach
the 1st Professional Workshop of Botulax in Thailand
attendance of the 6th Mae Fah Luang Annual Research Conference in Dermatology and Aesthetic Dermatology
attendance of the Juntendo and Mae Fah Luang Universities Research Conference of Rejuvenate Evolution in Anti-Aging and Regenerative Medicine
attendance and participation in the 4th A4M Thailand Congress on Anti-Aging & Aesthetic Medicine
attendance and participation in the 2nd International Thaicosderm Congress on Aesthetic Medicine (2nd ITCAM) "Master in Aesthetic Trends"
"Current Issues in Dermatology 2013" short course conference of Division of Dermatology, Department of Medicine, Faculty of Medicine, Chulalongkorn University
participation in "Exuberance in Dermatology 2013" (annual Juntendo and Mae Fah Luang Universities Research Conference)
certification of academic course of leprosy for dermatologist class 1/2013, Raj Pracha Samasai Institute, Department of Disease Control
certification of attendance in 11th chelation therapy course of CMAT (Chelation Medical Association, Thai), 2013
certificate of attendance to "Focus to the Future of Anti-Aging Regenerative & Aesthetic Medicine 2014" of Thai Association of Anti – Aging and Regenerative Medicine (TAARM)
attendance of the Juntendo and Mae Fah Luang Universities Research Conference "Art and Science in Dermatology 2014"
attendance of 2014 mid-year annual conference of the dermatological society of Thailand
attendance of 40th Annual Meeting of DST 2015
21st century SIRIRAJ conference on Jan 11-12, 2018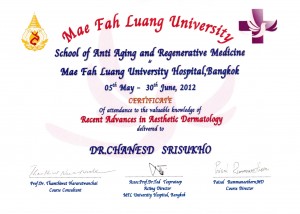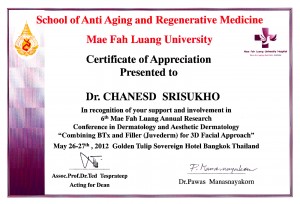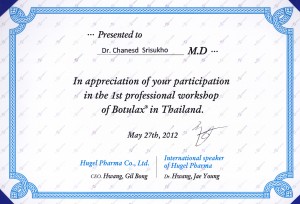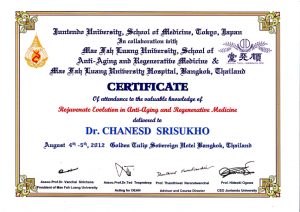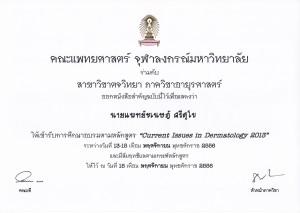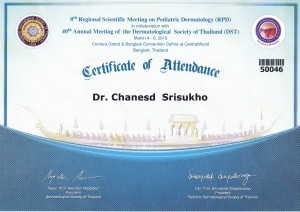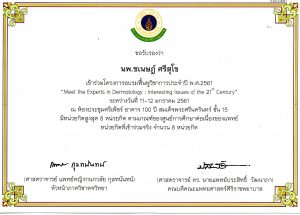 Workshop
had been invited to attend the exclusive MERZ AESTHETICS workshop: Diamond toxin and Colorful filler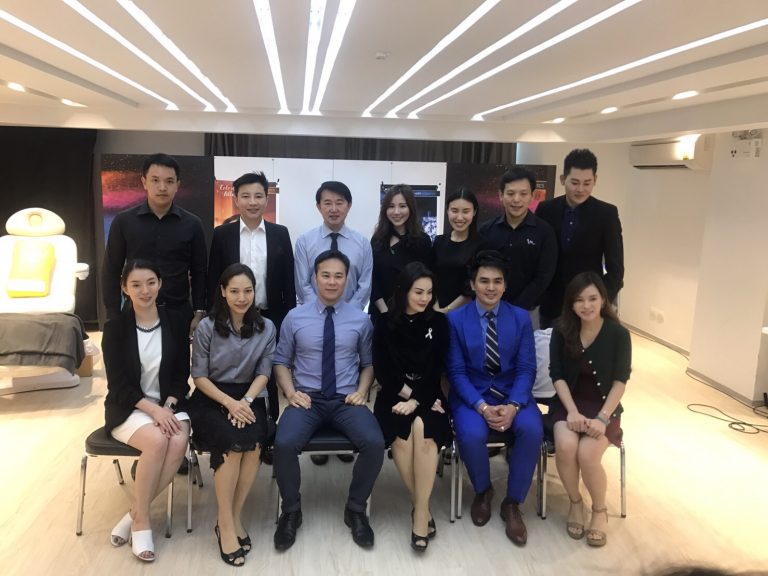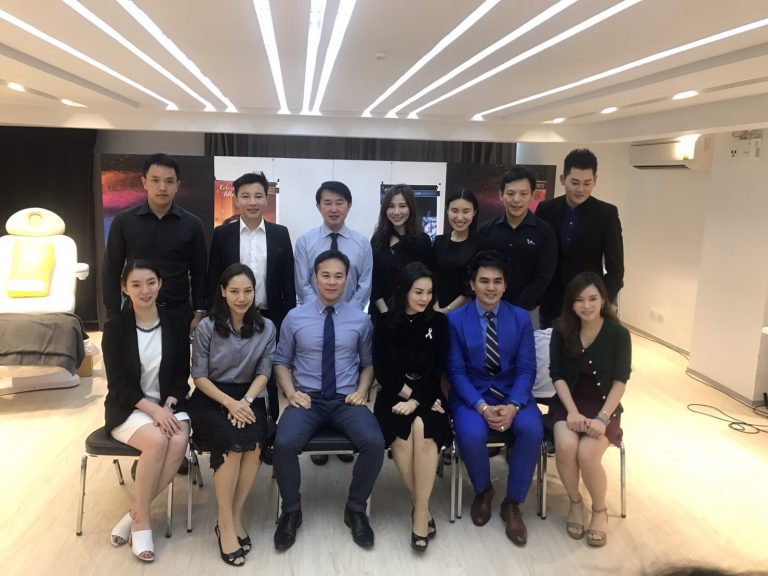 Professional Membership
Dermatological Society of Thailand
The Medical Council of Thailand
c0-founder and registrar of Thai Association of Aesthetic Medicine (TAAM)
Thai Youth Power group
Academic Award
Rangsit good person award of the year 2011
Second Class Honor with GPA 3.49
Certificate of achieving highest scores from Surgery department in academic year 2008-2009
Highest Scores of all Psychiatric subjects
Certificate of achieving total highest scores in many semesters
As a speaker
"Update in acne scar treatment" session on May 1, 2016 at MFLU, Chiang Rai province
Others
Sasin Master Class – "Venture Capital in Southeast Asia: At A Turning Point?" on Oct 4, 2016
Sasin Masterclass – "Innovate…or Fade Away" on Dec 14, 2016
Le Cordon Bleu Dusit "Say Cheese" wine&cheese pairing workshop
Le Cordon Bleu Dusit 45-hour Wine Studies program
Le Cordon Bleu Dusit's Grapes of the World : Savignon Blanc, Syrah, Grenache, Muscat
(www.wsetglobal.com) WSET1&2 award in Wine and Spirits, London
Le Cordon Bleu Dusit's Introduction to Italian Wines
Le Cordon Bleu Dusit's Roasted Lamb loin the Italian menu